It's starting to get a bit chilly at nights and my family is starting to crave some warm & delicious comfort foods... one of our favorites is Beef Stroganoff. Most Stroganoff recipes' are filled with lots of fat, but I try to cut a few corners on this version of my recipe to keep the calories down... no one seems to notice the swap and all the flavor is still there!! :-)
Not to mention this recipe is a total timesaver too! You can prepare it in the morning, set your Crock pot and come home to a fantastic, filling, delicious meal! The meat is tender, the sauce is creamy and the noodles add just the perfect balance to it. It will soon become one of your families favorite dishes over this what is sure to be a chilly winter season!
Beef Stroganoff a'la Crock pot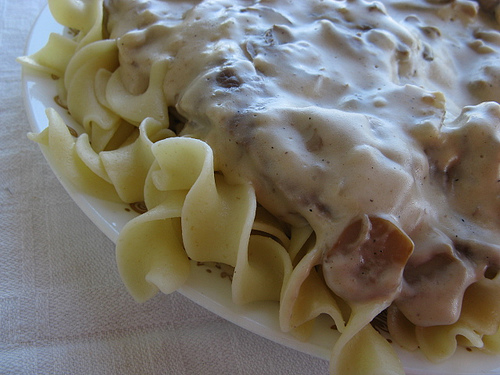 3/4 pkg of onion soup mix
1 can low sodium/low fat cream of mushroom soup
1 package of mushrooms, heartily sliced
1 container low fat sour cream
1 bag of wide egg noodles
Combine all ingredients in the Crock pot, except the sour cream. Stir well. Cover with lid. Set heat to low. Cook until the beef is tender (approximately 6-8 hours), stirring occasionally.
Stir in the sour cream about 20 minutes before serving. Combine well.
Serve a top some wide egg noodles... YUM!